Radcliffe Cardiology Announces New Partnership With the British Cardiovascular Intervention Society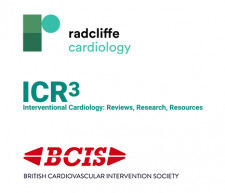 LONDON, March 26, 2022 (Newswire.com) - Radcliffe Cardiology's journal, Interventional Cardiology: Reviews, Research, Resources (ICR3), announces a new partnership with the British Cardiovascular Intervention Society (BCIS).
This partnership will further ICR3's purpose to support the knowledge network in the cardiovascular community. Working together will have a huge impact on the understanding and treatment of interventional medicine by providing the cardiology community with free access to high-quality review articles, original research and other resources that will help physicians on the frontline make more informed decisions - while BCIS can both extend the reach of that insight and widen the pool of professionals who can inform future thinking and research.
On the agreement, Dr Peter O'Kane, Editor-in-Chief of ICR3 based at the Royal Bournemouth Hospital, commented: "As a UK Interventional Cardiologist, I am delighted that ICR3 is partnering with the British Cardiovascular Intervention Society (BCIS). The strong tradition and exceptional quality of BCIS in shaping our national clinical standards, education and research programmes with membership across physicians and allied health professionals will provide the journal with an opportunity for wider readership and manuscript contribution.
"This was already an exciting time for ICR3, as we have recently opened to accept original research article submissions. The association with BCIS will further enhance our commitment to providing outstanding educational resources and experience to the cardiology community across the globe."
BCIS President, Prof Nick Curzen, based at the Southampton University Hospital, UK, added: "I welcome the partnership between ICR3 and BCIS, which will facilitate an exciting and novel platform for dissemination of original research, state-of-the-art output and news. We welcome the journal's ambition for the highest academic standards moving forward, and this resonates with the needs of our members, especially the research activities. This partnership will offer a range of mutually beneficial opportunities".
ICR3 is open to new content from authors wishing to submit an article, which can be done online - https://www.editorialmanager.com/icr/default1.aspx.
About Interventional Cardiology: Reviews, Research, Resources
Interventional Cardiology: Reviews, Research, Resources (ICR3) is a PubMed indexed, peer-reviewed open access journal that publishes articles continuously on ICRjournal.com. It aims to assist time-pressured physicians to stay abreast of key advances and opinions in interventional cardiology. ICR3 comprises balanced and comprehensive articles written by leading authorities while providing updates on a range of salient issues to support physicians in developing their knowledge and effectiveness in day-to-day clinical practice. The journal endeavours to support the continuous medical education of specialist and general cardiologists and disseminate knowledge of the field to the wider cardiovascular community.
About British Cardiovascular Intervention Society
The British Cardiovascular Intervention Society (BCIS) promotes education, training and research in cardiovascular intervention as well as developing and upholding both clinical and professional standards. BCIS provides a large array of educational material from a variety of sources, presentations, audio casts and webcasts from previous conferences including both AHP and ACI, as well as the publication of clinical cases, reviews and news.
About Radcliffe Cardiology
Radcliffe Cardiology provides free access to peer-reviewed content from industry-leading journals Arrhythmia & Electrophysiology Review (AER), Cardiac Failure Review (CFR), European Cardiology Review (ECR), Interventional Cardiology: Reviews, Research, Resources (ICR3), US Cardiology Review (USC) and Journal of Asian Pacific Society of Cardiology (JAPSC). Alongside other digital and multimedia content, Cardiology Journals | Cardiologist Education | Radcliffe Cardiology aims to support physicians, clinicians and leading industry professionals in continuously developing their knowledge, effectiveness and productivity.
Source: Radcliffe Cardiology
Share:
---
Categories: Healthcare and Medical News
Tags: Cardiology, Cardiology Journal, cardiovascular, heart disease, interventional cardiology
---
Radcliffe Group Ltd
Unit F, First Floor, Bourne End Business Park, Cores End Road
Bourne End, Buckinghamshire SL8 5AS
United Kingdom